About Us
Commuter Support & Programs aims to advocate for Bruin commuters' academic, co-curricular, and transportation needs and create visibility for the commuter student experience across the university. Our mission is to help commuter students build community and ensure they have access to campus resources to promote their success at UCLA.
Being a college student can be a thrilling experience, but it can also present unique challenges that may require additional support. We highly encourage all Bruin commuters to take advantage of the resources and opportunities provided by Commuter Support and Programs. Learn more by exploring this website, connecting on social media, and signing up for the Commuter Newsletter.
Commuter Newsletter
Receive weekly updates on campus resources, scholarships, job/internship opportunities, and more!
Sign up for our weekly commuter newsletter and stay in the know on all things Bruin commuters!

Who are Bruin Commuters?
Through a campus-wide commuter coalition and the creation of the Undergraduate Commuter Committee, Commuter Support & Programs has focused its advocacy and resources on the traditional student commuters who, for various reasons, have no intention of living on campus. For purposes of our work, we define commuters as:
Undergraduate & Graduate Students
Do not live in university-owned housing
Live/Commute 5+ miles from campus *
*in a traditional academic year
About the BruinHub
The BruinHub is a new space designed to meet the needs of students who commute long distances to campus as well as those who experience some form of housing insecurity, located at the John Wooden Center. The space was designed in recognition of commuters' routines and needs. To use the space, students are invited to fill out an online application to become a "BruinHub Passholder." We ask that students complete the application each academic quarter.
The BruinHub features areas for students to study, and rest: study tables, charging stations, microwave, refrigerator, storage, and study pods. Students will also be able to utilize the John Wooden Center's restrooms, water stations, and showers. The BruinHub pods are individual, partly-enclosed spaces for students to individually rest, study, or recline. They are designed for temporary rest in a public space, each featuring a foldable desk and electronic ports for charging. In the daytime, a student can reserve a pod for short-term (<2 hour) use.
The BruinHub's Hours of Operation are consistent with the hours of the John Wooden Center and are subject to change each academic quarter.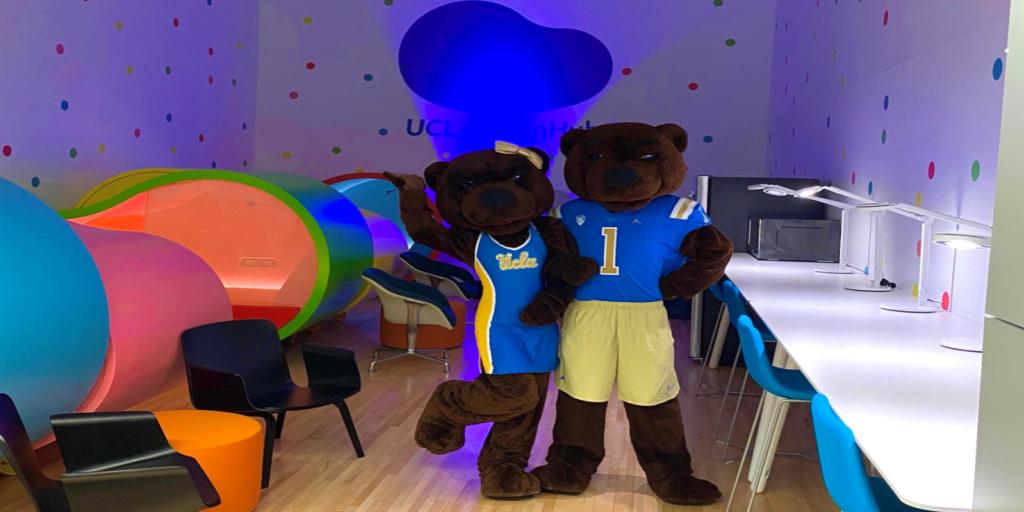 Supporting Your Transportation Needs
Commuter Support & Programs is dedicated to developing programs and resources to meet commuter student needs. Below are several resources that can help commuter students navigate through transportation needs while retaining a sense of belonging at UCLA.
UCLA Transportation Services
The Transportation Services Department is dedicated to supporting all your transportation needs and has an excellent overview of commuter options on their website broken down by how far your commute would be and also specific transit options which include public transportation, biking, walking, carpool, vanpool, and information on parking.
UCLA Carpool Permit
Carpooling to campus is a great option for those students who are able to drive 2-3 students in his/her car. One of the many perks of being in a valid UCLA carpool is registered students are not only guaranteed a parking permit, but they receive this permit at a discounted rate! For more information, visit the Transportation Services website's Student Carpool Permit Requirements.
If you are interested in carpooling with another student, check out the UCLA Transfer Student Center's Facebook Group to connect with fellow commuters!
UCLA Vanpool Program
If you live next to several of your fellow Bruins, you may be able to be part of the UCLA Vanpool Program that typically runs Monday-Friday and picks up at a common location in your neighborhood. Vanpool is a nice alternative to driving and allows you to save money on your commute, relax along the route, and an excellent way to meet other commuter students.
UCLA's Community Programs Office (CPO) also offers a van service option for students who live within a 15-30 mile radius from campus. If you are interested in learning more about this service, please fill out an application by visiting the CPO office in the Student Activities Center located in room 105 at the front desk. Make sure to take a copy of your study list with you.
Bruin Commuter Club
The Bruin Commuter Club (BCC) is a complimentary transportation program for those commuting to UCLA by public transit, bicycle, carpool, vanpool, or by foot. BCC offers exclusive benefits for those who quality using alternative transportation with such incentives as gift cards and discounted parking when needed. Students must be actively registered at UCLA and use one of the following: vanpool (full time), carpool, or public transit and not hold a UCLA permit. See here for more details on how to apply.
Parking on Campus
Parking at UCLA is not guaranteed for students which is why we highly encourage you to take advantage of alternative forms of transportation.
If you are wanting to obtain a permit, registered students need to fill out the online application and follow specific guidelines. Please be mindful of application deadlines for incoming students as the spaces fill up very quickly. Go to the Transportation Parking website for more information on how to proceed.
Parking in Westwood
The Westwood Village neighborhood adjacent to UCLA offers some great options for shopping, food, and other items you may need as a university student. If you are searching for parking in Westwood, there are over 30 parking lots in Westwood Village.
ParkMe offers an interactive map of parking lots and garage prices near campus and is able to provide real-time availability for most lots.
LA Express Park and Parkopedia can also offer real-time availability for parking options around campus.
Street parking is also available all day on parts of Veteran Avenue, Gayley Avenue, and Hilgard Avenue. Make sure you read the street signs carefully as there are street sweeping days and you are at risk of receiving a parking violation if you do not follow the parking restrictions. Usually, the Eastside of the street is on Thursdays and the Westside of the street is on Fridays.